Be A Vibrant, Healthy, And Young You! 

Work, stress, aging and several other factors contribute to oxidative stress. Oxidative stress can cause inflammation, chronic illness, and impair the central nervous system.  Hydrogen has antioxidant activity and extra hydrogen can reduce inflammation, concentration of oxidative stress, and boost energy. Improve quality of life with our Portable Hydrogen Generator Pro.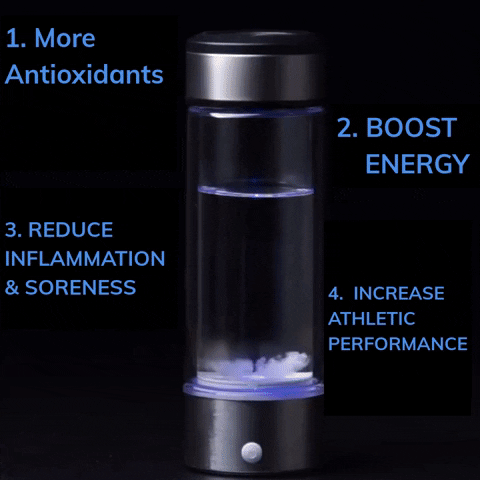 "It makes me feel great. When I drink hydrogen water I notice an improvement in energy, focus and general well being almost immediately. Many of my friends have had similar positive experiences! I love it and it makes me feel young again! - Sarah C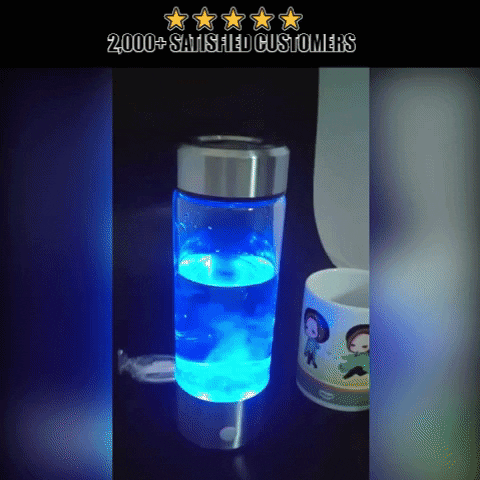 BOOST ENERGY: Hydrogen is a key ingredient in producing ATP (Energy -carrying molecules). Hydrogen infused water will give you a natural boost of energy for late night work or early morning pick me ups. 
PROMOTE A YOUNGER & HEALTHIER WELLBEING: Combat the effects of aging with this "water of life". Hydrogen water can help with joint pain, blood circulation, lower blood sugar level, and help you feel less bloated and more healthy.
INCREASED ATHLETIC PERFORMANCE: Perfect pre or post workout drink to help ease muscle soreness and reduce lactic acid buildup. Experience greater power output and less muscle fatigue. 
GREAT TASTING & ANTIOXIDANT RICH: This clean and antioxidant rich water will encourage healthy hydration and provide tons of benefits. Antioxidants help with reducing inflammation and will keep your skin clear and ageless.
Available Online Only. We Ship Worldwide!
FEATURES 
14.5oz(430 ml)
Stainless steel base and lid
Borosilicate glass bottle (double layered, anti-high temperature food grade glass)
Water Electrolysis in 3 minutes (with BPA-free hydrogen producing base)
Hydrogen concentration: 700-900ppb 
USB charging
FREQUENTLY ASKED QUESTIONS
Q: Does it really work?
There are thousands of studies that note the incredible benefits of Hydrogen rich water. Hydrogen water has been found to act as a powerful antioxidant and can reduce inflammation, increase energy levels, and many other health benefits. 
Q: Doesn't water already have two hydrogen molecules
Yes water has two hydrogen molecules, but the body cannot effectively absorb the hydrogen in plain water because it is bound to oxygen. This Hydrogen generator creates hydrogen molecules that are "free" and the benefits of the extra hydrogen molecules are easily absorbed by the body.
Q: How does this bottle generate hydrogen?
Our bottle uses a Platinum and titanium alloy film technology to perform electrolysis and produce pure molecular hydrogen at concentrations up to 1300ppb. Only use water in our bottle. 
Q: How long can I use this bottle for?
Our bottle last 20-30 uses until it needs to charge for 1-2 hours. The lifetime use of the bottle is around 3-5 years however we recommend replacing it every two to three years.  
OUR GUARANTEE
If something is wrong with your order or you are not satisfied, you can quickly contact our customer support team to get a refund. Try it Risk Free today!